The COVID-19 pandemic has prompted many entrepreneurs to review or refine their company's business model. Here are some testimonials.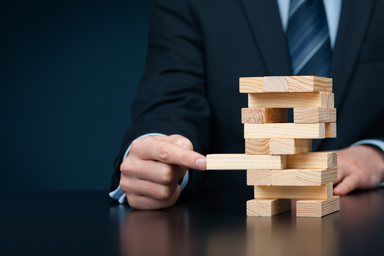 The pandemic has had a major impact on the investment capacity of Swiss companies in terms of innovation, according to a 2021 study by the Bern University of Applied Sciences (BFH) (only available in German). Of the 254 companies surveyed, almost 92% said they had been affected by the crisis, with a decline of up to 90% in their innovation activities. Given this complex situation, Swiss SMEs have nevertheless found ways to reinvent themselves. According to the BFH, one in five companies has changed its business model. These are mainly the result of new customer requirements.
This was the case for Engineered, a company based in Yverdon-les-Bains (VD) specializing in electronic engineering subcontracting. "The onset of the crisis led to order cancellations from February to April 2020, accounting for 20% of our annual sales," says Alexandre Lavanchy, Director. But we chose instead to tell ourselves that the situation was an opportunity to put all our energy into marketing a new B2C product line, a project that had already been on our minds for a few years."
The eight-person company then took advantage of its team's availability to develop its first high-definition audio streaming boxes, which will be marketed under the Wattson Audio brand in summer 2020. "We got off to a good start right away, despite the difficulties in obtaining electronic chips. Today, our brand sales represent about a quarter of our overall revenue, a number we expect to double within three years."
A second line of business
Zurich entrepreneur Roman Stämpfli also had his business abruptly interrupted in spring 2020. At the time, he was general manager of a company specializing in events. "I quickly perceived that the predicament was going to persist and I thought I had better set up a second line of business," he recalls. "I was looking for a model that was e-commerce driven, unaffected by seasonal or cyclical variations, and that covered a fundamental consumer need."
In March, he envisioned the creation of a company specializing in the sale of laundry sheets, a type of detergent that was not yet known in Switzerland. "I initially discovered this product in the United States and saw its great potential, both for its ecological value and for its emotional appeal."
The project became a reality in November 2020 when a new company was created with the help of a partner. Named Bluu, the new enterprise generated a turnover of CHF 2 million in its first year of operation and now has seven employees and several hundred points of sales. It is also about to embark on a partnership with a Swiss retail giant and to set up a production facility based in Europe.
"I think we came up with the right product at the right time," says Roman Stämpfli. "A growing number of consumers prefer local brands and ecological alternatives. Plus, our product is geared toward e-commerce, which currently accounts for about 60% of our sales."
Step out of your comfort zone
For Vincent Widmer, the health crisis prompted a review of the objectives of his company Beekee, which had just been launched in the field of educational technologies. Together with a partner, the Geneva-based entrepreneur has developed a "box" that generates a local wi-fi network, allowing connection to a digital teaching platform without requiring internet access.
An offer primarily intended for humanitarian organisations. "Our customers were quick to notify us that they were no longer going to be able to move due to health restrictions." Beekee then devised a new product, supplemented by an online management platform. "The second box we designed works as a hub and becomes a substitute for the instructor. It is loaded with educational content before being shipped to the field." With the addition of a 3G connection, the instructor can then access it remotely to grade exams or add new courses.
"The health crisis forced us to step out of our comfort zone," says the entrepreneur. "Initially, we thought we were only going to approach NGOs based in Switzerland. However, with the rise of teleworking and videoconferencing, we came into contact with clients worldwide." As a result, the technology developed by this Swiss start-up is now used in countries such as Kenya, Yemen and Cambodia.
---
On the theme
Digital transformation
In the Swiss Edition of the "24th Annual CEO Survey", leading audit and consulting firm PwC shows that Swiss executives are looking to accelerate digital transformation within their companies. They are digitalizing operations, processes, and core activities, and offering new digital products and services. In 2021, 92% of the Swiss managers surveyed planned to increase their investments in digital transformation over the next three years. In the global survey, only 83% of them expected to do so.
Last modification 02.03.2022