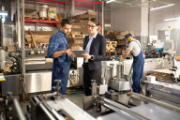 (24.05.2023) The Swiss economy is suffering from global economic challenges. In April 2023, Raiffeisen's PMI SME index fell slightly by 0.6 points to 51. The index thus remains within the expansion zone that it regained in March, after two months of contraction.
The "order books" component (+0.1 point/53.3) and "production" component (+2.1 points/ 52.8) have continued their upward trend and are now comfortably above the growth threshold of 50.
Delivery times have also increased compared to March (+4.6 points). According to the report, this situation is no longer attributed to supply chains but rather to "better capacity utilization".
Despite this relatively positive picture, the Raiffeisen report indicates rather mixed economic prospects. Indeed, the strength of the industrial sector has significantly weakened in many countries since the end of the pandemic, leading to a decrease in demand for Swiss products in global markets.
In addition, the service sector is also hindered by declining consumer demand - whose purchasing power is being eroded by rising prices - as well as by the interest rate hikes implemented by central banks to counteract inflation.
According to Raiffeisen's latest forecasts, Swiss GDP growth is expected to reach 1% in 2023, which represents a two-fold decrease compared to 2022. This explains the caution among SMEs and the decline in the "employment" component month-on-month (-3.9 points/46.1).
---
Last modification 24.05.2023