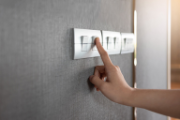 (23.11.2022) The winter is looking relatively positive for the Swiss accommodation sector. According to a survey by HôtellerieSuisse, more than 50% of establishments expect their sales to equal or exceed their pre-Covid levels. However, rising costs are curbing this trend.
After a satisfactory summer overall, during which nearly half of the 170 establishments surveyed experienced year-on-year growth of over 10%, the winter season is expected to conclude with increased revenues for most industry players.
In the Alpine regions, nearly three-quarters of hoteliers expect to match their pre-crisis revenues, while in urban areas, over two-thirds predict revenue growth over 2021. About 20% of the sector, however, is anticipating lower revenues than last year.
Meanwhile, rising energy prices have forced 75% of establishments to increase room rates by an average of about 5% compared to 2021. However, this increase will probably not be enough to offset rising operational costs. The crisis is causing significant financial hardship for nearly one in two hotels, which could lead to temporary closures for both small family-owned properties and large hotels if energy prices rise again.
In response, many industry operators have already taken steps to reduce their energy consumption, such as replacing traditional light bulbs with LEDs or lowering heating.
---
Last modification 23.11.2022