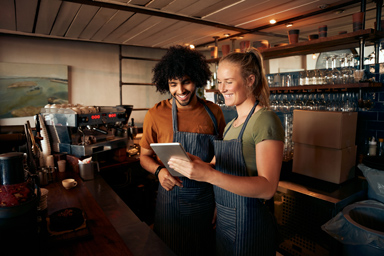 (22.02.2023) After a turbulent fall 2022, the Swiss economy seems to be recovering gradually. The Swiss Economic Institute ETH Zurich's (KOF) Economic Barometer continued its upward trend and reached 97.2 points in January 2023, an increase of 5.7 points compared to December 2022.
While still below the long-term average (100), the Barometer's January value seems to confirm the renewed optimism following a second half of 2022 marked by five consecutive months of decline, spanning July to November. The Barometer has not been up this high since June 2022.
All indicators are progressing positively thus contributing to an improvement in the Barometer's overall value. The most encouraging indicators are in the hospitality and catering sector which performed better than its long-term average. In contrast, the manufacturing, construction and services sectors regained considerable strength but remained below their average.
In manufacturing, the upward trend is driven by wood and paper, other manufacturing, machinery and equipment manufacturing, electrical engineering and chemical and pharmaceutical sectors.
Demand and production indicators also scored better than the previous month, while those for employment and the competitive situation were virtually unchanged.
The Economic Barometer peaked in the spring of 2021 (133.19 in May), before falling to its lowest level (89.2 in November 2022) since the start of the health crisis in spring 2020.
---
Last modification 22.02.2023