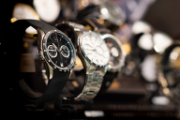 (16.08.2023) Swiss watchmaking continues to increase its foreign sales. According to the Swiss Watch Federation, the industry exported goods worth 13.3 billion francs between January and June 2023, a rise of 11.8% compared to the same period one year earlier.
This growth is evident in both the high-end and entry-level segments, leading not only to a surge in revenues but also in the volume of goods sold.
With nearly 12.7 billion francs in revenue during the first half of the year, sales of wristwatches increased by 12% compared to the previous year (+1.4 billion). Quartz models performed exceptionally well during this period (+18.8%), while mechanical models also saw a growth of 11%.
A significant portion of the export growth, about one-third, was driven by precious metal components, which experienced a growth rate of 11.6%.
In terms of markets, nearly half of the products were sold in Asia, where Swiss watch exports showed particularly robust growth (+14.3%), mainly due to the resurgence of demand from China (+25.4%) and Hong Kong (+28.8%).
Japan (+5.9%) and Singapore (+9.4%) also witnessed substantial increases in their imports of Swiss timepieces, while South Korea experienced a decline (-8.7%). In the Middle East and Europe, sales to the United Arab Emirates (+14%), Saudi Arabia (+10%), Italy (+17%), France (+12.6%), and Germany (+11.9%) all increased by at least one-tenth compared to the previous year. In the United States, exports only grew by 9.9%, marking a significant slowdown compared to the previous year's growth (+17.5%).
---
Last modification 16.08.2023