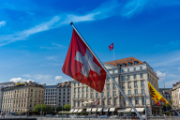 (22.06.2022) The hotel sector experienced a sharp rebound during the winter of 2021/2022. According to the Federal Statistical Office (FSO), the industry recorded 14.6 million overnight stays. This represents a 54% increase in demand in all tourist regions compared with the previous year.
With the exception of April, which showed a decline of 10.5%, industry professionals noted an upward trend in demand within Switzerland across the months from November 2021 to March 2022. Compared to the 2020/2021 season, the number of overnight stays by domestic tourists rose by 18.9% (+1.4 million units) to a total of 9 million. Viewed in light of the 2019/2020 season, this represents a 39.9% increase in the number of visitors.
Among overseas tourists, Germans contributed the largest overall increase compared to winter 2020/2021, with 789,000 additional overnight stays, followed by the British (+450,000) and the French (+237,000). Visitors from the American continent (+616,000) and Asian countries (+475,000) are also gradually resuming their previous travel habits. In total, 3.7 million additional overnight stays from overseas travelers were recorded.
Geographically, all tourist regions saw a significant improvement in visitors, although cities experienced a higher increase than mountain destinations. Geneva (+189%), the Zurich Region (+152%), and the Basel Region (+112%) - which were also the most affected by COVID-19-related national and international restrictions - were in the lead. The Berne Region (+47%), Valais (+41%), and the Grisons (+32%) were among the most popular holiday destinations for both Swiss and overseas travelers.
---
Last modification 21.06.2022