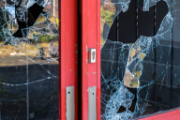 (01.03.2023) The number of break-ins reported by Swiss companies has decreased over the last 15 years, but prudence is still advised. According to a press release from the insurer AXA, nearly 1'300 incidents took place in 2022, with average damages of CHF 6'000.
After a drastic decrease during health restrictions, break-ins rose again in 2022, reaching a peak in July. The study's authors noted a nearly 20% increase in the number of burglaries in summer and fall compared to winter and spring, in part because criminals tend to focus on empty premises due to closures.
Geography also plays an important role. In Geneva, almost 3.72% of AXA-insured businesses experienced a break-in in 2022, nearly four times more than in Appenzell (0.94%). The cantons of Vaud, Neuchâtel, Solothurn, Jura and Basel-Stadt also recorded rates above the national average.
In contrast, the two half-cantons of Appenzell, Uri, Schwyz and Obwalden appear to be the safest regions as far as business break-ins go.
The Swiss subsidiary of the French group also notes that the loot taken by thieves is increasing in importance. With less and less cash being stored on company premises, burglars are turning to electronic equipment, merchandise or valuable items.
Construction sheds, where valuable tools are sometimes stored, are a popular target and relatively easy to break into. It is thus recommended to securely lock accesses – including windows – to vacant premises, or even to install an alarm system. Burglars tend to give up quickly when premises are difficult to access.
---
Last modification 01.03.2023