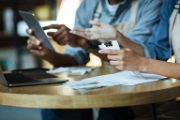 (15.06.2022) Bankruptcies continue to rise. Between January and April 2022, there were 1,448 bankruptcies, an increase of 15% compared to the same period in 2021, according to consultancy firm Dun & Bradstreet. Business start-ups are also becoming more cautious.
Underlying this double-digit rate are significant geographical disparities. With an increase of 52%, Zurich is by far the most affected region. This is followed by Eastern Switzerland (24%), the Espace Mittelland (22%) and the north-western part of the country, i.e. the cantons of Aargau, Basel-Stadt and Basel-Land (14%). On the other hand, there was a slight decline in the French-speaking part of Switzerland (-1%), while in Ticino the number of insolvency proceedings fell by 10% year-on-year.
As many as 324 companies declared themselves insolvent in April 2022 alone. This figure is 7% higher than it was in April 2021.
Meanwhile, corporate start-ups slowed by 5% between January and April 2022, compared to the previous year, with 16,639 entries in the commercial register. This is 906 fewer start-ups than in 2021.
No region managed to pull ahead on this occasion. The Espace Mittelland (-12%), the North-West (-9%) and Ticino (-8%) suffered the greatest declines, while the French-speaking part of Switzerland, Eastern Switzerland and the Zurich region recorded more moderate drops (-2%).
This relatively cautious approach was even more evident in April, when the number of new businesses fell by 10%.
---
Last modification 15.06.2022