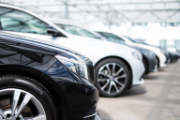 (23.11.2022) The automotive sector is expecting a slight improvement in the economy. According to forecasts by the BAK Institute and the Swiss Automobile Association (SAVV), the number of new vehicles on the road in 2023 will increase by 13.6% compared with 2022.
After plunging dramatically by 24% between 2019 and 2020, the number of new vehicles registered has remained relatively stable. Unlike other industries and services, such as hospitality, pharma-chemicals and construction, the automotive trade has not experienced a post-Covid recovery so far. Following a slight increase of 1% in 2021 with 239,000 new registrations, the sector is expected to close 2022 down 4% on the previous year.
Experts have been predicting the beginning of a return to normalcy in the industry since August 2022. Supply problems in Asia are gradually being resolved and semiconductor production is expanding substantially. Given this situation, vehicle imports are expected to increase significantly in 2023.
According to the report's authors, 260,000 new registrations could be recorded over the whole of 2023, which is 31,000 more (+13.6%) than in 2022. This figure is the highest since the beginning of the health crisis in 2020.
Nevertheless, with demand still outstripping supply, the used car market and the service and repair business are expected to remain robust. In 2023, 776,000 vehicles are projected to change ownership, an increase of 4.3% from 2022.
The shortage of new vehicles is also encouraging motorists to take better care of their cars. Over the same period, the overall turnover of maintenance and repair shops could increase by 3%.
---
Last modification 23.11.2022