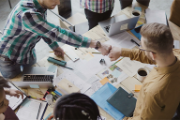 (29.06.2022) Internet-based crowdfunding set a new record in 2021. According to the Crowdfunding Monitor of the Lucerne University of Applied Science and Arts (HSLU), CHF 791.8 million was raised by this means, representing an increase of 31% compared to 2020.
In relative terms, the most significant increase was in crowdinvesting, which rose from 114 million to 147.2 million, up 37.8%. Financing through loans, or crowdlending, increased from 448 million to 607 million (+35%) and showed the strongest growth in absolute figures. This was driven by increased demand for SME and individual loans, as well as investments in the corporate and real estate markets.
Donations and supporters (crowdsupporting / crowddonating), on the other hand, have declined slightly. They fell from 44.6 million in 2020 to 37.6 million in 2021 (-15.9%).
The university expects to raise more than CHF 1 billion in funds through crowdfunding by 2022. While this is only a small fraction of the total amount of securities and loans raised nationwide, the Crowdfunding Monitor predicts that this method of financing will continue to gain ground in the years ahead. The COVID-19 pandemic has significantly boosted the prominence of online financial services for both individuals and businesses.
In the 14 years since it was founded, the HSLU Observatory has determined that almost 3 billion francs were raised via online financing mechanisms.
---
Last modification 29.06.2022