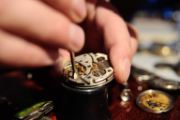 (08.02.2023) The number of people employed in the watch industry has risen sharply over the past year. As of September 30, 2022, 60,823 people worked for a company in this industry, an increase of 5.8% compared to 2021, according to the Federation of the Swiss Watch Industry (FH).
With 3,332 additional employees in 2022, the number of employees in the Swiss watch industry reached levels close to those prior to the quartz crisis of 1970-1988, when employment dropped from 90,000 to 30,000.
Production staff, the biggest recipient of this momentum, saw a 9.3% jump in employment (or 3,780 additional workers) between September 2021 and September 2022. According to the FH, employment growth in this category can be used as a benchmark to assess the industry's robustness. Management staff increased by 1.9% with an increase of 31 positions. In contrast, the volume of administrative staff fell by 3.1% over the same period (-463 posts).
Furthermore, the increase in the number of employees has been accompanied by a rise in employees with a higher education diploma (+7.9%) or a vocational diploma (+4.7%) in the watch industry. This ensures that more than 70% of the 61,000 people currently employed in the sector are qualified. However, the sector attracted fewer apprentices in 2022 (-8.1%). According to the FH, this decline is largely due to the Covid pandemic and should be resolved over the next few years.
Neuchâtel (16,278), Berne (12,865) and Geneva (10,987) are the cantons with the highest number of employees in the watch industry. Nine out of every ten people employed in the industry work in the "Watchmaking Arc", which is made up of these three cantons as well as the Jura, Solothurn and Vaud.
---
Last modification 08.02.2023