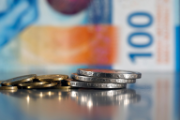 (02.11.2022) After six months of inflation, the consumer price index (CPI) fell in September. The Federal Statistical Office (FSO) recorded a month-on-month decline of 0.2%. Europe-wide, the inflation rate reached 1.2% in the same period, according to Eurostat.
Switzerland's annual inflation rate (3.3%) is still above the price stability target set by the National Bank (2%). Nevertheless, the situation remains much less pronounced than in neighboring countries: in the euro zone, the inflation rate reached 9.9% in September (+0.8 points compared to August) and 10.9% in the European Union as a whole (+0.8 points compared to August).
However, not all EU member states are equal when it comes to soaring prices. Inflation rates in the Baltic States, which have been particularly hard hit by the energy crisis, have exceeded 20% - 24.1% in Estonia, 22.5% in Lithuania and 22% in Latvia - while France (6.2%), Malta (7.4%) and Finland (8.4%) have managed to contain it better.
Energy prices are showing the most spectacular rise, both in Switzerland (+24.1%) and in the eurozone (+40.7%), and remain the main reason for the overall price increase. Excluding energy prices, annual inflation in the eurozone is 6.4%. In Switzerland, the core inflation rate, which excludes fuel prices and seasonal products, is only 2%. In the services sector, Switzerland's annual inflation rate remained stable at 1.2% compared to the previous month, while in the euro zone it was 4.3%.
Furthermore, six European economies, including five EU and Eurozone members, saw a decline in CPI between August and September 2022: Cyprus (-1%), Malta (-0.6%), France (-0.5%), Slovenia (-0.3%), Spain (-0.2%) and Iceland (-0.2%).
---
Last modification 02.11.2022